President Marlene Doherty opened the meeting at 12 sharp, and we were all saddened by the news that David Hamilton passed away on Sat Dec 4/21.
Presentations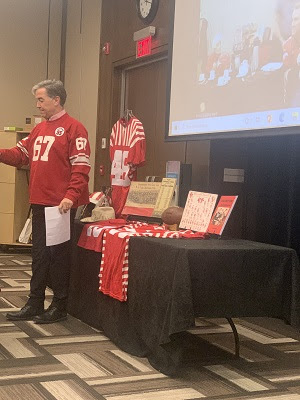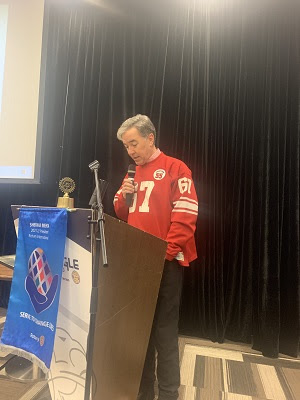 Today was our traditional Grey Cup meeting. Robyn introduced Ted Valentine's wife Shirley and his kids Tom, Paul, and Kathryn. Harry Wilmot was also present, and his father was a previous Grey Cup champion. Robyn noted that Ted Valentine was always a huge Stamps fan. Robyn turned it over to Paul Valentine to introduce our guest speaker.
Paul Valentine provided a very humorous intro starting with the "Ye Men of Calgary" song. He told stories of Ted who played some ball in Calgary and BC. Ted's claim to fame was Norm Quan stepped on his hand. Ted got his first season's tickets in 1953, and the family still renews them every year.
Guest Speaker: Daryl Slade

The Calgary Stampeders and the 1948 Grey Cup

Paul introduced Daryl Slade who was statistician for the Dinos from 79-83 and for the Stamps from 1983 to 2013. He is the author of 4 books including the topic of today's presentation, the 1948 grey Cup.
Calgary football started in 1908. No teams from the west went east for the Grey Cup until that year. Tom Brook brought in Les Lear who put together a great team. Les brought in Keith Spade as quarterback. Paul Row was the captain. They won every game, 12 in a row. In those days, the Western Finals was best of 2 games, and the Stamps tied the first one wan won the second.
250 fans took the train out east, which was a 3-day trip. The fans brought a huge party to Toronto, held a parade and Stampede breakfast, square dancing, making it a new part of the Grey Cup. Tickets were $2, and fines for scalping were $25.
End of the first quarter it was 1-0 for the opposition. In Q2, the Stamps did a trick play where Norm Hill laid down on the sidelines, was missed by the opposition and ran into the end zone to give Calgary a 6-1 lead at the half (such plays were banned 2 years later). On the kickoff, Calgary was called for a penalty and Ottawa scored a touchdown to make the game 7-6. Calgary took advantage of a fumble and scored another TD to make it 12-7, and then hung on due to 2 more fumbles and 2 interceptions to win the game.
Calgary fans took down the goalposts and returned victorious back to Calgary where a half day holiday was declared with a parade attended by 30,000 fans. there were 2 banquets with trophies and belt buckles. In 1998 there was a 50th anniversary celebration.
The story of the horse inside the hotel may or may not have been urban legend.
Marlene thanked Daryl and presented him with a donation to Shelter Box in his name.
Marlene's uncle Fred was a part of the 1948 game, (also a Rotarian) and she recalls her uncle was told "Wear your helmets when you play Saskatchewan 'cause those guys throw things!". She introduced her cousin Harry who has one of the 50th anniversary rings, and she invited him up to tell a story. he related a story about how rough things were back then when his dad and Norm Hill got into an argument and the coach told them both to fight it out which they did for 20 minutes before it was broken up. Fred and Norm were friends thereafter.
Marlene presented the following review of progress against our club's plan as shown below.
1) Strategic Plan – 2nd quarter review
2) Organizational Chart Update
1) Strategic Plan – 2nd quarter review – posted on the website under members resources
Please see notes attached
2) Organizational Chart Update- posted on the website under member resources
The Board of Directors reviewed our Calgary West Organizational chart and have updated Committee Chairs and will continue to update committee members

Adjustments were made to the Fundraising chart and Club Service changed to Club Operations

Service to the community and the club are both essential. Service takes many different forms and with the addition of the Club Volunteer Coordinator & committee this year under Services & Grants we felt Operations was appropriate.

Our Board size is consistent with other Rotary Clubs of our size and reflects the Avenues of Service which align with Rotary International
There are 5 goal areas: Members & Engagement, Rotary Foundation Giving, Service, Young Leaders and Public Image.

Goals can be measured by: Achievement - yes/no, a determined number (e.g. membership goal is 76 for the year) or automatically filled by Rotary International (foundation giving – note US dollars)

We are on track in all five areas. Young Leaders, COVID has cancelled/postponed many of the programs however there is discussion of a short-term exchange in 2022.
4) Nominating – Linda Anderson
Linda invited anyone wanting to serve on her board next year, and hearing no responses announced who has volunteered:
President - Linda Anderson
Past President - Marlene Doherty
President Elect - Orlin MacMillan
President Elect Nominee - Don Edie
Secretary - Dilpriya Mangat
Membership - Les Morgan
Finance Fundraising - Terry Felton
Services and Grants - David Wartman
Youth - Natalija Reljic
Club Operations - still to be filled
Linda asked for a vote of approval, which was seconded by Sa'adat and carried unanimously.
Hot Seats
Barbie noted her parents were at the 1948 game, and then announce the Tom Jackson concert on Dec 22/21 at 7 pm. Tickets are $25 with all proceeds to "I Can for Kids".
Gail noted the end of Foundation Month and invited any more contributions can go through her.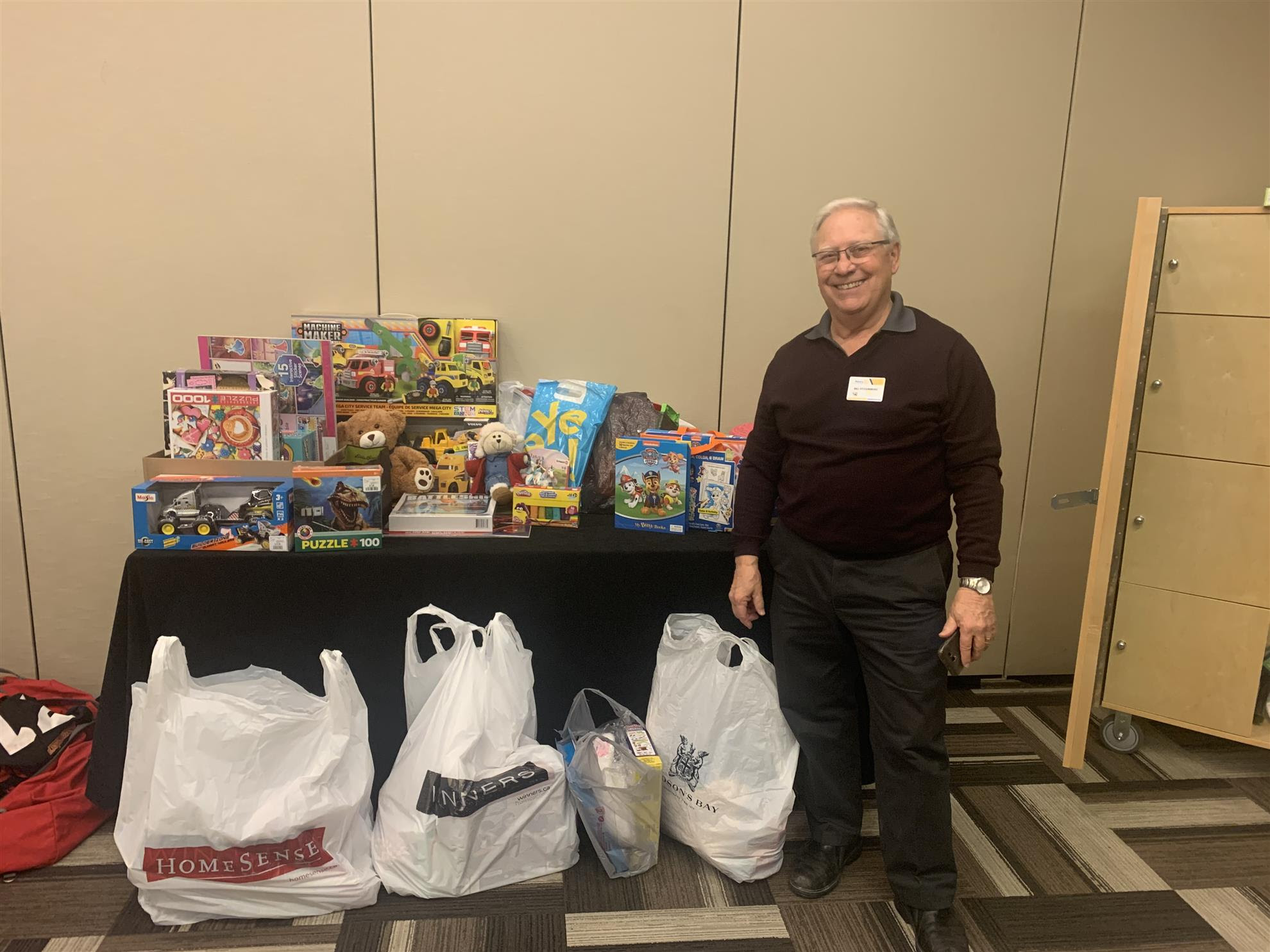 Bill F thanked everyone for their gifts of toys in our Days of Giving effort.
Terry noted that Christmas wreaths, garlands and centerpieces are here, and delivery happens on Thursday. He needs one more driver and has 2 garlands and 2 centerpieces available for purchase.
Marlene thanked Team 2, the Grey Cup contingent and Wreath fundraiser participants. She noted our next meeting on Dec 13/21 will feature the Bishop Carroll musicians, a new member induction and a presentation on learning & development by Rob Wolfson. We finished off with the 4-Way Test video.
Appendix
STRATEGIC PLAN – SECOND QUARTER REVIEW
Our strategic plan is a living document & we are committed to quarterly reviews. Please refer to the website, member resources for the strategic plan.

We spent a considerable amount of time at our fall forum and today will provide the updates:
GOAL AREA 1 - INCREASE OUR IMPACT
Actions 1
Members responded to our Community Service survey re: types, times, focus. Etc. of current & future volunteer opportunities. The committee is evaluating the results and will move forward accordingly.

A master calendar of hands-on service as well as other club events is current & accessible to all members on our website

Our fundraising committee has developed a master calendar, they are evaluating current fundraisers as well as seeking creative new opportunities to raise funds
Actions 2
Community Assessments – continue to be a work in progress
Action 3
Directors and committees continue to seek events & opportunities that meet the needs of our members and our volunteer chair – Bill Q has been tracking our volunteer hours and impact on the community. Volunteer hours – include all forms of service – service to the community, to our club and to our district.
Action 4
Gord has posted several our successes on our website – he has created a template and requests that we continue to TELL OUR STORY.
GOAL AREA 2 - EXPAND OUR REACH
Actions 1
Continue to promote dialogue between committees & Directors Committees are aligned with the strategic plan & we're communicating on a quarterly basis
Evident in a number of areas
Community Service Opportunities – Field of Crosses, Sarcee casino, Motive Action casino, Community Kitchen & Grace Satellite food bank

Fundraising – Wreath fundraiser – Hearts & Hands, Huron Carole – I can for Kids

Learning & Development – Toastmasters & Rotary

District Indigenous committee – trip to Blackfoot Crossing with other Rotary clubs, exploring potential project with Heritage Park club on the Tsuu'tina nation.
Action 2
DEI – Steve Kuiack has expressed an interest in participating in the District committee conversations and has contacted the chair – Judie Bopp

Work in progress – to ensure our club represents our community & is a welcoming club
Action 3
Celebrate our successes – please share your photos & stories with Gord
Action 4
Gord reaching out to members for support & assistance with social media
GOAL AREA 3 - ENHANCE MEMBER & COMMUNITY ENGAGEMENT
Actions 1
Membership continues to focus on retention & has revised our new member induction process

We welcomed Jean Claude to the club & look forward to the induction of Dr. Rajo Hajela next week and Kathryn Kaldestad in January.
During Foundation Month – we had updates from both LCS & ICS – what projects we have supported, how the funds were spent & their impact.
Mentorship package – subcommittee is following up with phone conversations
Actions 2
Testimonials, follow up reporting & evaluation – to be developed
Action 3
Learning & Development – Rob Wolfson will present to our club next week to assist members, so they're comfortable & have the knowledge to access training – it is a very comprehensive & valuable resource
GOAL AREA 4 – INCREASE OUR ABILITY TO ADAPT
Actions 1
Nov. Board – we reviewed our Board structure & organizational chart & made some revisions – (Fundraising & Club Service – now Club Operations)
Actions 2
Continuity & Succession – continue to work on strategies to ensure

Members have what, when & how they need to assume & perform leadership roles.

Aware of the need to develop strategies for succession
Action 3
The Bylaw subcommittee has met – Bylaw revisions will be presented to the Board and Membership for approval in the New Year.
General
Also pleased to celebrate we have severed our relationship with PayPal & are now dealing with Moneris

We have sorted out the discrepancy we had with AGLC re: our registered Club name